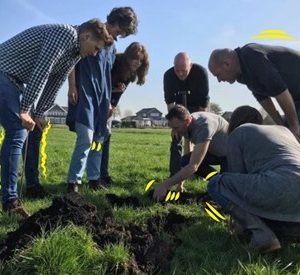 Leadership programs
We often give ourselves little time and attention to reflect on our personal leadership and professional development. A leadership program anchored in time and always in connection with nature. Your own journey, together! Within the leaderships programs, we offer a program to develop a leadership network and we initiated multiple innovation labs.
Some examples of our Leadership Programs:
The NextGen Ag Impact Network [NGIN] is the global network of networks for, with, and by NextGen Agricultural Leaders. Our aim is to empower youth in agriculture and related fields by including them right from the start. Together, we will co-create a structure, programs, and a community to unlock resources and energy for transformational impact towards the United Nations Sustainable Development Goals (UN SDGs). I4NATURE is one of the founding partners of this coalition getting this coalition started and facilitating the co-creation process amongst others.
We initiated ''de oogst van overmorgen'' to develop a leadership network of diverse stakeholders in the agricultural and food system. In this program, we work together on resilient and sustainable solutions within the system and agriculture. Each year we train around thirty youngsters in this program.
The Dutch paper processing industry was looking how to get a more sustainable, energy-efficient process , they had a Paper challenge! We facilitated an innovation lab combining this challenge with the desires of a group of highly intelligent drop out talents. This ended up in a specific method, ready to develop by the industry in on of their factories.